When people talk about (or plan) traveling across Europe, Baltic Europe is usually missed out - while it's a perfect place for road trips, discovering new cultures, it doesn't get super hot in summer and what also counts - these places are relatively cheap. I've picked up 5 places you shouldn't miss while visitng the magical three of Lithuania, Latvia and Estonia. Three is a charm, so don't be suprised when Baltic Europe steals your heart like it stole mine!
1. Vilnius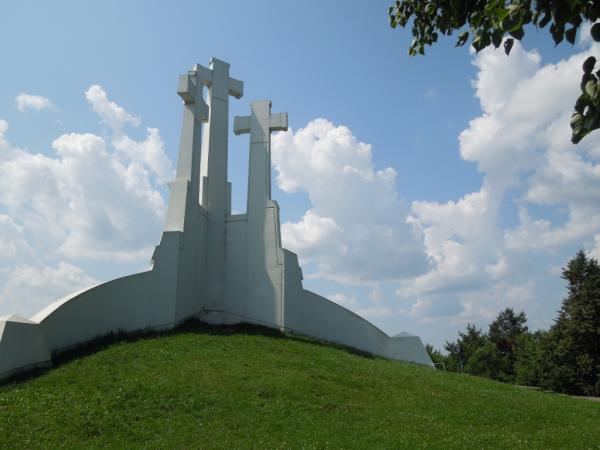 If you visited Prague and loved it, Vilinius will for sure suffer a huge déja vu. Vilnius, the capital of Lithuania, is a historical city that really resembles Prague, especially when you climb up the Hill of Three Crosses (in the photo) and look over the city. Make sure not to miss the Cathedral square, because the Vilnius Cathedral is a bomb.
2. Trakai
Trakai, located about 30 km away from Vilinus, is a little historical town with about 5 thousand residents, but it offers a couple of places you can't miss. On the top of the list is Trakai Island Castle (in the photo), a 14th century castle located on an island of lake Galvé. Not only the castle itself is a romantic place, but you can also look sit down in one of the restaurants along the lake, or enjoy the colourful architecture of local wooden houses.
3. Kaunas
As a sports fan, I sure as hell heard of Kaunas because of their basketball tradition, but it's obviously not everything this city can offer. Kaunas is famous for devils, there is even a Devil Museum. The city centre is also filled with beautiful historical buldings, little shops and restaurants. The blding in the photo above is the Town Hall, or Rotuše, as you call it in Lithuanian. Not only that's the reason why Kaunas is known as the cultural centre of Lithuania. Oh, and I completely lost it for this city when I randomly bumped into an ice rink in the Akropolis shopping centre.
4. Riga
Riga is another beautiful historical city and the capital of Latvia with an Old Town filled with sights, masterpieces of Art Nouveau (one third of Riga is built in this attractive style), impressive churches, narrow streets, old houses and Hanseatic area artefacts. Riga is also a popular gourmet tourism destination, you enjoy a meal in an authentic medieval restaurant in the heart of Old Riga. As a history-freak, I definitely recommend visiting The Occupation Museum, only a couple of steps away from The House of Blackheads (detail in the photo).
5. Tallinn
Tallinn is in my opinion the perfect mixture of the old and the new. While being a busy port only about 2 hour ferry ride away from Helsinki, Estonia is like Finland's younger brother. Not only their languages look similiar, but it's also a country with a completely different atmosphere than the other 2 Baltic countries. If you climb up to the top of St. Nicolas's Church, you will get a view you won't regret. E
ven the American president has picked it as a destination to visit! (Ok, that's silly.)
Booked.net is hosting a competition over at
Booked.net
-
Top Destinations to Go There
, so make sure to visit, check other posts and join, if you want to! The five bloggers I'd like to nominate are
Aly
,
Polly
,
Kym
,
Martienn
and
Charlotte
, I believe you girls have got enough of travel experience to share your top 5 cities everyone should visit!